What is VAX-D?
VAX-D is an acronym for Vertebral Axial Decompression.
The VAX-D Table was invented by Allan E. Dyer, M.D., Ph.D. He is the former Deputy Minister of Health of Ontario, Canada and developer of the heart defibril­lator.
Dr. Dyer personally came to Los Angeles in 1995 to train Dr. Stephen Price in the treatment of the low back using this medical device. In many cases alleviating the need for surgery.
The Mechanics of the VAX-D Table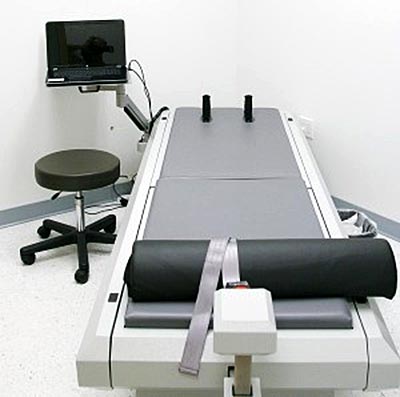 The table is an FDA licensed device that applies a measured amount of distraction force to the intradiscal spaces of the lumbar spine. The therapy consists of applying the force gradually by extending the lower half of the table away from the body's center thus creating a pull on the pelvic harness. This is done 15 times in a 30-minute period. Currently the average number of sessions is thirty.
Indications for Use
The most frequent indications for Vertebral Axial Decompression are a herniated disc, either subligamentous or extruded and degenerative disc disease as well as sciatica.
It has also shown great promise treating back pain associated with facet arthropathy and related arthritic changes.
Effectiveness of VAX-D
Clinical studies have proven that VAX-D treatments have benefitted 95% of cases reducing pain and increasing function and mobility without the need for surgery.
Dr. Price offers a no charge consultation for new patients who are interested to find out if their low back and leg pain could significantly improve without the need for surgery. If you have an MRI or X-rays bring them with you to your visit with Dr. Price.